Autolak kleurnummer opzoeken
Elk automerk heeft zo zijn ideale plaats voor het noteren van het kleurnummer van de auto. Het kleurnummer staat niet altijd in het kentekenbewijs maar wel zeker in de auto. Onderstaand schema geeft een goede indicatie waar u het kleurnummer van betreffend automerk kunt vinden.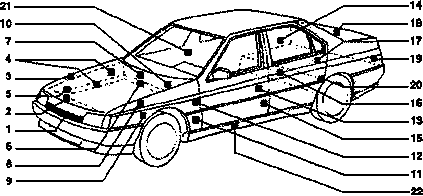 Vervolgens kunt u hieronder de gewenste lak / lakstift bestellen.
Wanneer u autolak wenst waarbij de kleur bij benadering voldoende is, bestel dan autolak DHZ in standaard spuitbus of lakstift.
Hiervoor heeft u een Motip bestelnummer nodig. Het bestellen gaat dan als volgt:
1. Originele kleurcode
Heeft u de originele kleurcode, ga naar stap 2.
Heeft u geen originele kleurcode. Zoek deze kleurcode op met behulp van schema en tabel bovenaan deze pagina.

2. Kleurcode om-nummeren via onderstaand tabel
Dit is nodig omdat u benaderingskleur wenst. U heeft dan namelijk het Motip bestelnummer nodig.
⇓⇑ gehele resultaat bekijken - binnen dit vlak scrollen ⇓⇑
Opnieuw Zoeken

...

Zoeken op Kleurcode

...

Zoeken op Bouwjaar

- klik hier -
Scroll binnen het donker grijze vlak met de muis voor het gehele resultaat. ⇓⇑
Opnieuw zoeken: klik op bovenstaande knop.
3. Autolak standaard bestellen
met behulp van het Motip bestelnummer, klik op een afbeelding hieronder.


Colormyinterior is a specialist in wall and window decoration. Founded in 1947 and online since 1999. Our collection mainly consists of wallpaper & photo wallpaper, curtains & blinds, adhesive film & static window film, but also carpets & floor coverings, decorative profiles and paint.
With us you will find a very diverse range, a very large selection of the most beautiful products from the middle to the higher segment. A wide choice for those who want something different.
Could you use some help to make the right choice? Our stylists are happy to help you with color and interior advice. This is possible without obligation in our showroom, but also at your home or business location in the Eindhoven area. Both for private individuals and interior projects for companies.