Bent u op zoek naar duo rRolgordijnen op maat gemaakt. In onze showroon in Eindhoven presenteren wij met vele voorbeelden raamdecoratie.
Onze stylisten helpen u graag met het maken van de juiste keuze en voorzien u graag vrijblijvend van gratis advies.
Duo rolgordijnen ook wel multishade genoemd is een product met 2 lagen stof, bestaande uit transparante en niet transparante banen. Door met een kettingbediening het gordijn op en neer te laten kunt u geheel uw eigen lichtinval bepalen. Geheel gesloten, half open of open op elke hoogte van het raam. Kortom combineer de functionaliteit van een jaloezie met de uitstraling van een gordijn. Kortom, speel met licht en schaduw zoveel als u wilt!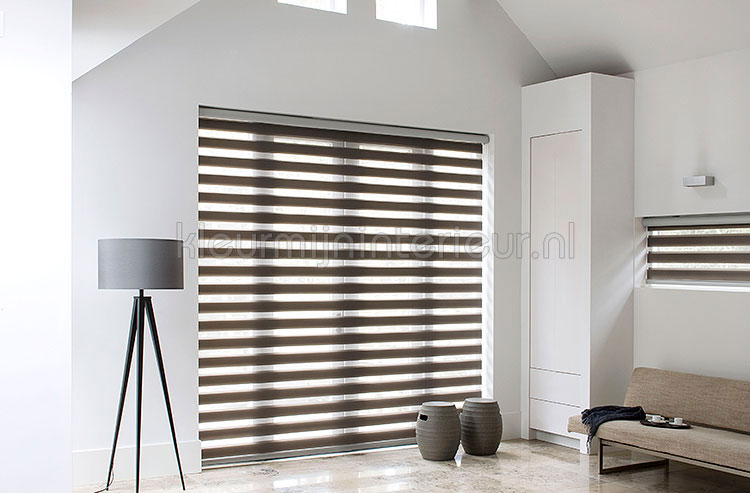 In neergelaten stand zijn de banen gesloten. Trekt u het iets op dan kunnen de banen voor elkaar gaan schuiven en kan de gewenst lichtinvalstand ingesteld worden.
Het duo rolgordijn wordt aangeboden in verschillende baanbreedtes van 25 , 40 cm
De stoffen collectie bevat tientallen kleuren.
Er zijn ook een verduisterende stoffen verkrijgbaar.
Naast de standaard polyester stoffen zijn er ook een aantal vlamvertragende (FR) polyester stoffen beschikbaar, speciaal geschikt voor projecten.
Dezelfde stoffen collectie is ook verkrijgbaar als rolgordijn.
Zo kunt u binnen 1 kamer ook combineren met verschillende producten.
Het product kan geleverd worden in een cassette bovenbak (verkrijgbaar in diverse kleuren) of in een open variant met montageprofiel. En voor de design-liefhebbers is er ook een retro variant met open systeem.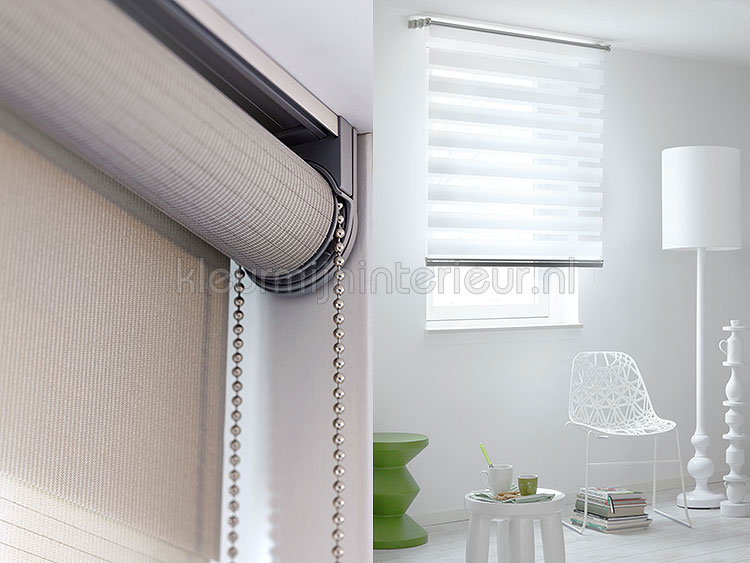 Project geschikt
projectkwaliteit (FR) beschikbaar
Slaapkamer geschikt
als redelijke verduistering gewenst is.
Er zijn verduisterende doeken beschikbaar. Het systeem zal aan de zijkant altijd wat licht doorlaten en tevens kan er ietwat licht door stoflagen heen vallen.
De doeken vallen zeer dicht tegen elkaar maar er is altijd sprake van een lichte kier.
Keuken geschikt
nee
Badkamer geschikt
nee
Kiep/ kantelramen
nee