Bent u op zoek naar paneelgordijnen op maat gemaakt. In onze showroon in Eindhoven presenteren wij met vele voorbeelden raamdecoratie.
Onze stylisten helpen u graag met het maken van de juiste keuze en voorzien u graag vrijblijvend van gratis advies.
Het grootse effect dat een paneelgordijn creŽert voor je raam is sensationeel.
Paneelgordijnen zijn heel stijlvol voor schuifpuien, openslaande deuren en voor grote, hoge ramen.
Paneelgordijnen zijn ook toe te passen als ruimteverdeler . Ook als alternatief voor kastdeuren ideaal omdat het precies op maat geleverd kan worden, licht van gewicht is en vele mogelijke uitstralingen kent.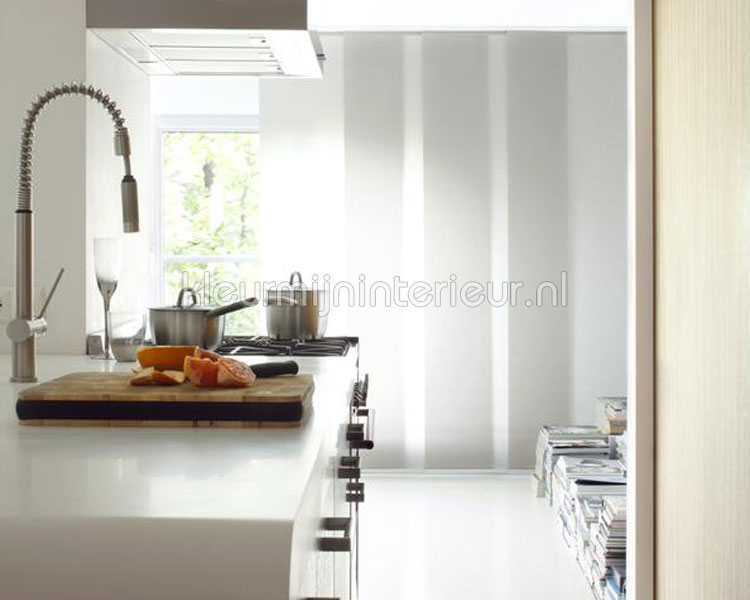 Harde stoffen
Harde stoffen zonder zijzomen zorgen een strakke en moderne uitstraling.
Breedte van een paneel varieert tussen 40 cm en 1.40 mtr.
Meest voorkomend is 50 of 60 cm breed.
Zachte stoffen
De zachte stoffen met zijzomen maken van het paneelgordijn een chique alternatief voor traditionele gordijnen. U kunt kiezen uit vrijwel de gehele gordijn- en voile collectie.
Brede collectie van honderden uni en deco-stoffen
Alle panelen in 1 paneelgordijn zijn even breed.
Bevestiging van de panelen op de rail met klittenband dus makkelijk afneembaar.
Ook makkelijk af te wisselen met verschillende kleuren/ motieven (na verloop van tijd.
Opties
Verschillende kleuren of prints in 1 paneelgordijn gecombineerd
Paneelrail is geschikt om tot 5 panelen achter elkaar te plaatsen.
Naar keuze zij- of middensluiting.
Bediening met koord op met trekstang. De panelen kunnen eventueel zelfs per stuk bediend worden.
Decoratieve (onder) latten in hout of aluminium
Project geschikt
projectkwaliteit (FR) beschikbaar
Slaapkamer verduistering geschikt
verduistering beschikbaar maar via zijkant altijd iets kierend
Keuken geschikt
nee, tenzij stof uitwasbaar is en maatvast
Badkamer geschikt
redelijk, indien vochtbestendige stof gekozen wordt
Kiep/ kantelramen
niet geschikt
Dakramen
niet geschikt
maximale breedte
6 mtr.
maximale hoogte
vrijwel onbeperkt (niet alle lamelsoorten zijn in deze maten verkrijgbaar)