Gratis meubel advies

Komt u er niet uit met de inrichting van de meubelen in uw huis? Of heeft u wel een idee maar wilt u graag dat een professional kijkt of u op de juiste weg bent? Maak dan, op een zaterdag naar keuze, een gratis adviesafspraak met Simone Raijmakers, de interieuradviseur van Verouden meubelen, bel 040-2434571 of mail naar interieuradvies@veroudenwonen.nl. Deze interieurstyliste heeft vernieuwende ideeŽn voor de indeling van uw huis, en helpt met het combineren van de juiste kleuren en materialen. Door het maken van goede combinaties straalt uw interieur rust en eenheid uit. Het interieuradvies begint met een inventariserend gesprek. Wat zijn uw wensen en eisen en in wat voor stijl wilt u de inrichting van uw huis. In de winkel vindt u moodboards in verschillende stijlen, zodat u precies aan kunt geven waar u wel en niet van houdt. Hierdoor ontstaat er een duidelijk beeld van uw smaak. Afhankelijk van de ruimte en van de gekozen meubels wordt er een logische indeling gemaakt. Naar aanleiding van uw smaak en met de gekozen meubels, wordt er een verassende totaalinrichting gemaakt met 2D plattegrond en een kleuren- en materialenplan. Hierbij wordt uiteraard ook rekening gehouden met bestaande meubels en overige materialen zoals de vloer en gordijnen. Kunt u met alleen een plattegrond nog geen duidelijk beeld krijgen van de ruimte? Met een speciaal programma kunnen zij u in 3D rond laten kijken in uw woning met uw nieuwe meubels. Tot slot worden er stylingtips gegeven om uw nieuwe interieur helemaal af te maken. Dit 2 uur durende consult is geheel vrijblijvend en word je aangeboden door Verouden Wonen & Slapen. Neem altijd afmetingen, een bouwtekening en/of foto's mee van de betreffende ruimte(s). Verouden Wonen & Slapen is al ruim 50 jaar een begrip in Eindhoven. Comfortabele meubels en bedden voor comfortabel wonen en slapen. In ruim 10.000 m2 presenteren zij een ruime collectie meubelen in Eindhoven. Van retro tot romantisch en klassiek tot modern en lifestyle.
Ontdek het grootste assortiment meubels in alle stijlen en prijsklassen.
Sfeervol gepresenteerd in mooie toonkamers waarin u een totaal inrichting van meubels en wand- en raamdecoratie kunt ervaren. Midden in Eindhoven bij Verouden Wonen & Slapen. Voor de aankleding werkt Verouden nauw samen met Kleur Mijn Interieur.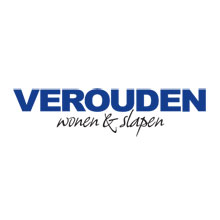 Sinds medio 2016 voorziet kleurmijninterieur.nl de vernieuwde showrooms van Verouden met wandbekleding, gordijnen en binnenzonwering.