Lamelgordijn met (eigen) foto

Stevige kwaliteit lamelgordijnen, 600 grams bisonyl, sterk en duurzaam als vrachtwagenzeil.
Dubbelzijdig bedrukt, sterke inkt, geeft niet af.
Standaard 2 zijdig bedrukt met dezelfde afbeelding. Beide zijden verschillende afbeelding is mogelijk, meerprijs 40 euro.
De lamellen (stroken) zijn ongeveer 3 cm breed.
Kleurecht en maatvast, dus geen krimp.
Kan zowel in het kozijn als op het kozijn worden bevestigd (zowel in de dag als op de dag).
Simpel blank houten ophangsysteem, eventueel te schilderen in uw eigen kozijnkleur.
Afbeelding keuze onbeperkt groot, tevens keuze uit gratis online beeldbank.
Eigen afbeelding mogelijk.
Afbeeldingen worden gratis bewerkt voor een optimaal resultaat.
Gratis standaard verzending binnen Nederland.
Levertijd gemiddeld 15-20 werkdagen.
5 jaar garantie op kleurechtheid.
De door u opgegeven afmeting is altijd de totale afmeting, dus inclusief ophangsysteem.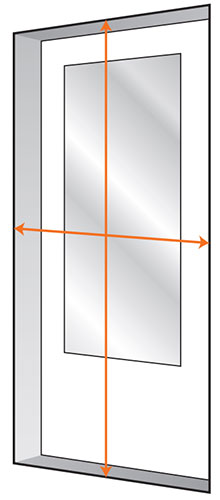 Het foto-lamelgordijn

in het kozijn

hangen: (in de dag)
Sluit de deur en meet de afstand tussen de zijkanten van het deurkozijn.
Sluit de deur en meet de afstand aan de binnenkant bovenin het deurkozijn tot de drempel / vloer.
Het foto-lamelgordijn

op het kozijn

hangen: (op de dag)
Voer bovenstaande instructies uit (in kozijn) en tel de gewenste extra cm erbij op.
Doorgaans is dit zowel in breedte als ook in de hoogte

gemiddeld 5 cm extra

maar dat is geheel aan u.
Indien u een lamelgordijn neemt dat breder is dan 200 cm wordt het ophangsysteem geleverd in meedere delen. Het houten ophangsysteem is maximaal 200 cm per deel. De maximale breedte is ivm het ophangen en makkelijk opbergen van het lamelgordijn.

Onze lamelgordijnen met foto worden geleverd met een blank houten ophangsysteem van 3 cm hoog en 3 cm dik. Dit simplele houten ophangsysteem is eventueel zelf te verven in een kleur naar wens. Het ophangsysteem is inbegrepen in de besteldmaat. Het ophangen (gaten aanbrengen) is heel eenvoudig en zelf te bepalen. Daardoor past het lamelgordijn altijd naar wens.
Onderstaande prijzen zijn inclusief BTW, inclusief bewerkingen en inclusief verzending.
De in te geven afmeting is inclusief ophangsysteem, dus totaal breedte en totaal hoogte.
Standaard 2 zijdig bedrukt met dezelfde afbeelding. Beide zijden verschillende afbeelding is mogelijk, meerprijs 40 euro.
Bestellen kan met beeldnummer uit onze beeldbank of (achteraf) versturen van eigen afbeelding kan gratis via: wetransfer.com.
Een bestelling plaatsen kan dus ook zonder beeldnummer / afbeelding.
Wijzigen van afbeelding of afmeting kan ook nog na plaatsing van uw bestelling.
Pas na uw persoonlijk akkoord betreft een door ons gestuurd digitaal voorbeeld nemen we uw order in productie.
Keuze uit onze free stock Images met miljoenen afbeeldingen.
Uw eigen foto. Graag aanleveren via wetransfer.com. Bestellen kan dan via procedure beeldbank, zonder beeldnummer.
Indien u zelf geen geschikte afbeelding heeft is het ook mogelijk om (rechtenvrije) afbeeldingen te zoeken via het internet of te kijken in de door ons beschikbaar gestelde online beeldbank:

Wij beschikken over een free stock Images met miljoenen afbeeldingen.
Afbeeldingen zijn gratis beschikbaar bij aankoop van een vliegengordijn met foto.
Meest uiteenlopende onderwerpen.
Makkelijk te vinden middels steekwoorden.
Bekijk onze Prices - Order.
Kleine beeld bewerkingen worden gratis uitgevoerd, zoals ook bij fotobehang met 'eigen' foto van toepassing is.
Meer info: zie Free image editing.
Een lamelgordijn wordt per opdracht samengesteld, er wordt zorgvuldig gecontroleerd of u afbeelding technisch voldoet.
Levertijd gemiddeld 15-20 werkdagen.
Colormyinterior is a specialist in wall and window decoration. Founded in 1947 and online since 1999. Our collection mainly consists of wallpaper & photo wallpaper, curtains & blinds, adhesive film & static window film, but also carpets & floor coverings, decorative profiles and paint.
With us you will find a very diverse range, a very large selection of the most beautiful products from the middle to the higher segment. A wide choice for those who want something different.
Could you use some help to make the right choice? Our stylists are happy to help you with color and interior advice. This is possible without obligation in our showroom, but also at your home or business location in the Eindhoven area. Both for private individuals and interior projects for companies.