Montage Vliegengordijn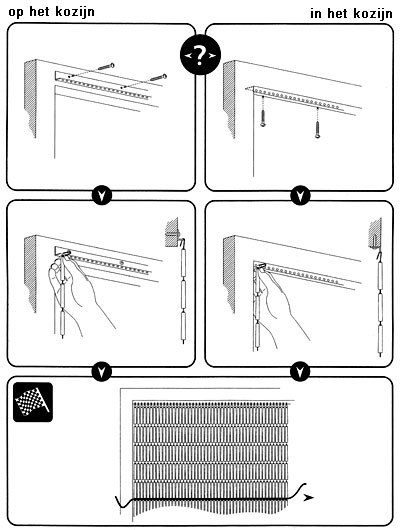 Onze vliegengordijnen worden standaard geleverd als een doe-het-zelf-pakket of kant-en-klaar.
Naar gelang de afmeting, motief en kleur die u doorgegeven heeft, bestaat het pakket uit:
Hulzen
Haken
Ophanghaakjes
Bevestigingsstrip inclusief schroeven. Deze strip is doorgaans aluminium. Bij de aluminium en kralen/vliegengordijnen is de bevestigingsstrip van kunststof.
Bij een vliegengordijn breder dan ruim 1 meter wordt de bevestigingsstrip in delen geleverd.
Montage vliegengordijnen met cassette ipv ophangstrip
Zorg dat de benodigde oppervlakte is bedekt en dat het gordijn aan de onderkant vrij hangt.
Bijgeleverd zijn twee schroefhaakjes die op de te bevestigen plaats worden aangebracht.
De achterkant van de cassette waarin het gordijn is gemonteerd, is zodanig gebogen dat die om de schroefhaakjes vallen.
Wanneer u na het zomer seizoen het gordijn voor langere tijd niet gebruikt, kunt u het gordijn eenvoudig weer omhoog tillen om het te verwijderen.
Rol of wikkel het kunststof gordijn dan nooit om de cassette heen, maar leg het in een lange lus terug in de doos of hang het op een andere plaats. Dit voorkomt vouwen en kreukels.