Raamdecoratie inmeet en montage service
Om er zeker van te zijn dat uw raamdecoratie netjes past bieden wij zowel inmeet als montage service.
Hieronder staan betreffende tarieven vermeld.
Inmeten en technisch advies m.b.t. gordijnen, binnenzonwering, horren en vloerbedekkingen.
Meetkosten in Eindhoven 50,00
Het tarief is ongeacht de hoeveelheid in te meten producten.
50,00 retour bij aankoop van minimaal 500,00 aan gordijnen/ zonwering
500,00 is exclusief confectie en stoffeerkosten, bedrag wordt in mindering gebracht op de offerte.
In actieperiodes met korting op producten geldt een aankoop van minimaal 750,00
Toeslag reiskosten regio Eindhoven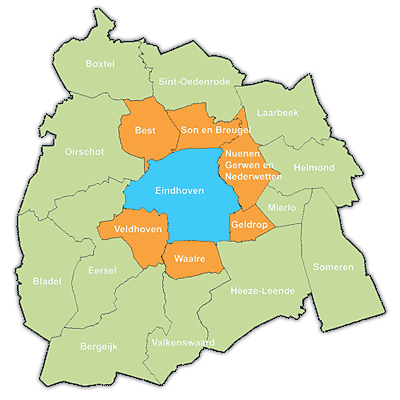 | | |
| --- | --- |
| LOCATIE | REISKOSTEN |
| | € 0,- |
| | € 20,- |
| | € 40,- |
Best, Geldrop, Nuenen (Gerwen en Nederwetten), Son, Veldhoven (Oerle), Waalre (Aalst)
70,-
Bergeijk, Bladel (Hapert), Boxtel, Eersel, Heeze - Leende, Helmond (Stiphout), Laarbeek (Aarle Rixtel, Beek en Donk, Lieshout, Mariahout), Mierlo, Oirschot, Someren (Lierop), St. Oedenrode, Valkenswaard (Dommelen), Vessem, Wintelre
90,-
Toeslag buiten regio Eindhoven
0,25 cent per kilometer afstand vanaf Eindhoven + 50,00 p/ uur reistijd (heen en terugreis)
Zelf de maat van gordijn opmeten ?
Meer infomatie vindt u hier inclusief instructie video:
Measure curtains (nl)
Zonwering
Plisse, Vouwgordijn, Jaloezie, Rolgordijn, Hor, etc
20,00 per stuk
Zonwering met zijgeleiding of profielen
27,50 per stuk
Verticale lamellen met verzwaring en koppelkettingjes
35,00 per stuk
Indien hoog of op speciale plek geplaatst moet worden kan een toeslag gelden
Indien het product heel breed is kan een toeslag gelden
Gordijnen
Afstandsteunen
4,00 p/ stuk
Rail in erker (ter plekke inbuigen)
45,00 p/ erker
Rail los incl. accessoires
15,95 p/ mtr.
Rail incl. accessoires + montage
23,95 p/ mtr.
Bocht buigen in rail
8,50 p/ mtr.
Rail los incl. accessoires
17,95 p/ mtr.
Rail incl. accessoires + montage
25,95 p/ mtr.
Bocht buigen in rail
10,00 p/ mtr.