Design meubels met een eigen identiteit
Hou je van design? Van een mooi ontwerp meubel of lamp? En wil je er graag je eigen identiteit aan toevoegen? Dat kan. Met de meubellijn alfa van gepimptemeubels.nl bepaal je het zelf! Speciaal voor dit doel is de meubellijn alfa ontworpen. Een strak, no-nonsense ontwerp gemaakt van berken multiplex: designmeubels, stoelen, tafels, designlampen en kindermeubels. Allemaal in dezelfde herkenbare lijn. En van hetzelfde basismateriaal. Als je liever een naturel designmeubel wil, dan kies je eventueel nog voor een nabehandeling met blanke lak. Of misschien wil je zelf je meubel in een kleur lakken of beitsen? Kies dan voor de onbehandelde versie. Maar wil je een kleur, of een bepaalde uitstraling of identiteit toevoegen? Dan kijken we samen hoe of met welk dessin behang van kleurmijninterieur.nl we jouw meubel kunnen pimpen. Dus of je nu een voorkeur hebt voor naturel, retro, trendy, klassiek, barok, romantisch of industrieel. Ik kan de designmeubels, kindermeubels en designlampen pimpen in de stijl die jij wil en die bij jou past. Wil je weten hoe? Lees dan meer over de werkwijze.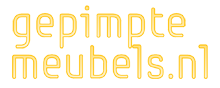 Sinds 2018 voorziet GepimpteMeubels.nl onze showrooms van leuke meubels met passende wandbekleding.